Campsites
Jamaka
Photos
About Jamaka
Jamaka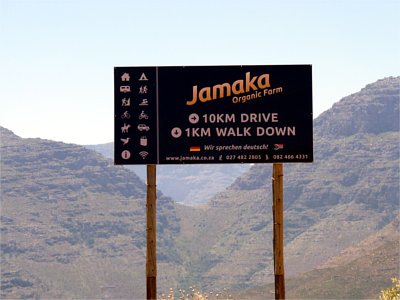 Jamaka Organic Farm and Resort belongs to the Nieuwoudt family since 1755. Jamaka is situated on the farm Grootkloof, currently the only certified organic farm in the Ceder mountains. Rooibos tea and various mango and citrus varieties constitute the primary crops of the farm.
The agricultural activities on the farm commenced in the 1950's with the establishment of a nursery and the planting of citrus trees. The organic status of the farm ensures that no pesticides, herbicides or fertilizers are used in the production of any crop.
The farm started adapting its original agriculture-only charter when the Nieuwoudt family decided to rent out three chalets in 1998. A year later they added the necessary facilities in order to establish camping grounds along the river. Through time Jamaka became a popular holiday and accommodation destination in the Cederberg area and subsequently more cottages were added while the camping grounds were expanded to increase their original capacity.
Jamaka currently features ten fully-equipped self-catering chalets with capacities ranging from two to sixteen people per house respectively. There are currently eighty-three campsites available for campers to choose from while new sites are being added from time to time.
Jamaka's campsites offers a great camping experience for both the new and veteran campers. All sites are shaded by trees and shrubs, providing a degree shelter from both the sun and rain.
Campers have access to five communal ablution facilities located across both camping grounds. These buildings contain toilets, showers and washbasins with geysers that supply hot water.
Fridge and freezer facilities are also available at either the camping grounds or at the office - just ask the staff. Furthermore each site has an electric outlet and palatable tap water.
Each site either has a movable fireplace or a grounded one while wood, ice and a limited range of other basic foodstuff are sold at the office.
Camping at Jamaka offers one the opportunity to engage in several outdoor and recreational activities. This includes swimming in the Rondegat river's rock pools, hiking one of five gorgeous trails weaving through the Cederberg fynbos, taking a donkey cart ride or enjoying a game of volley ball.
Features and Facilities
4x4 vehicle needed
4x2 vehicle needed/difflock
Sites available 60
Electricity
Hiking
Hot water
Nearby water Yes - River
Chalets
Cell Phone Reception

Comments and Reviews
Post a review
Please log in to continue
Map and Contact Details
Address
Cederberg / Clanwilliam
Western Cape
GPS Co-ordinates:
S 32°20"28.1904', E 19°1"42.2544'